Rubber Metal Buffers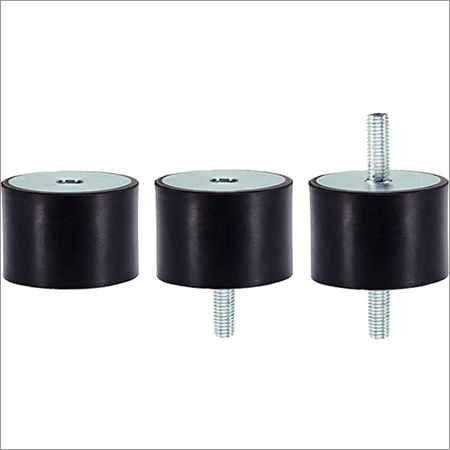 Rubber Metal Buffers
Product Description
Rubber Metal Buffers that are made available by us are widely used construction devices for elastic bearings. They are used, among other things, as bearings for assemblies, motors, compressors, pumps and testing machines. It is a vibration damper with an external thread on one side. This metal buffer is used under movable machines and devices to prevent damage from impact. The offered buffers are easy to install and made for efficient use. The Rubber Metal Buffers are very durable.
To be used for elastic bearing of motors, compressors, pumps etc.

The hardness is 55 +5o shore A. Further shore hardnesses (40 +5o shore A and 70 +5o shore A) on request.
Material :
Support washer

Steel, galvanized, blue chromated

Threaded bushing

Steel, galvanized, blue chromated

Body

Natural rubber (caoutchouc NR), black

Screw

Steel, galvanized, blue chromated
Dimensions

Spring rate R
~

Load capacity max.

Spring range
~

min.

max.

[g]

Art.-No.

d 1
+1,5

l 1
+1,5

d 2

l 2

s

t
min.

[mm]

[N/mm]

[N]

[mm]

[oC]

8

8

M3

-

1,0

3,0

38

75

2,00

-30

80

0,98

25150.0003

10

10

M4

-

1,2

4,0

36

90

2,50

-30

80

1,77

25150.0006

10

15

M4

-

1,2

4,0

17

65

3,75

-30

80

2,26

25150.0007

15

10

M4

-

1,4

4,0

80

200

2,50

-30

80

5,00

25150.0008

15

15

M4

-

1,4

4,0

36

135

3,75

-30

80

6,00

25150.0009

15

20

M4

-

1,4

4,0

30

152

5,00

-30

80

7,00

25150.0010

20

15

M6

-

2,0

5,0

95

355

3,75

-30

80

10,00

25150.0021

20

20

M6

-

2,0

5,0

53

267

5,00

-30

80

20,00

25150.0022

20

25

M6

-

2,0

5,0

50

315

6,25

-30

80

20,00

25150.0023

25

20

M6

-

2,0

5,0

121

605

5,00

-30

80

30,00

25150.0026

25

25

M6

-

2,0

5,0

85

530

6,25

-30

80

30,00

25150.0027

25

30

M6

-

2,0

5,0

77

575

7,50

-30

80

30,00

25150.0028

30

30

M8

-

2,0

6,5

114

855

7,50

-30

80

50,00

25150.0031

30

40

M8

-

2,0

6,5

76

757

10,00

-30

80

50,00

25150.0032

40

30

M8

-

2,0

6,5

205

1535

7,50

-30

80

80,00

25150.0041

40

40

M8

-

2,0

6,5

164

1635

10,00

-30

80

100,00

25150.0042

50

30

M10

-

2,0

7,0

343

2570

7,50

-30

80

130,00

25150.0051

50

40

M10

-

2,0

7,0

245

2445

10,00

-30

80

150,00

25150.0052

50

50

M10

-

2,0

7,0

178

2225

12,50

-30

80

130,00

25150.0053

60

30

M10

-

2,0

7,0

453

3400

7,50

-30

80

190,00

25150.0061

60

40

M10

-

2,0

7,0

330

3300

10,00

-30

80

220,00

25150.0062

70

45

M10

-

3,0

7,0

356

4000

11,25

-30

80

340,00

25150.0071

75

40

M12

-

3,0

9,0

465

4650

10,00

-30

80

360,00

25150.0076

75

55

M12

-

3,0

9,0

327

4500

13,75

-30

80

450,00

25150.0077

8

8

M3

6

1,0

3,0

38

75

2,00

-30

80

1,11

25150.0103

10

10

M4

10

1,2

4,0

36

90

2,50

-30

80

2,39

25150.0106

10

15

M4

10

1,2

4,0

17

65

3,75

-30

80

2,84

25150.0107

15

10

M4

10

1,4

4,0

80

200

2,50

-30

80

6,00

25150.0108

15

15

M4

10

1,4

4,0

35

130

3,75

-30

80

7,00

25150.0109

15

20

M4

10

1,4

4,0

30

150

5,00

-30

80

8,00

25150.0110

20

15

M6

18

2,0

5,0

95

355

3,75

-30

80

15,00

25150.0121

20

20

M6

18

2,0

5,0

53

265

5,00

-30

80

17,00

25150.0122

20

25

M6

18

2,0

5,0

50

315

6,25

-30

80

18,00

25150.0123

25

15

M6

18

2,0

5,0

184

690

3,75

-30

80

26,00

25150.0126

25

20

M6

18

2,0

5,0

121

605

5,00

-30

80

28,00

25150.0127

25

30

M6

18

2,0

5,0

76

570

7,50

-30

80

36,00

25150.0128

30

15

M8

20

2,0

6,5

143

535

3,75

-30

80

41,00

25150.0131

30

30

M8

20

2,0

6,5

113

850

7,50

-30

80

50,00

25150.0132

40

20

M8

23

2,0

6,5

302

1510

5,00

-30

80

72,00

25150.0141

40

30

M8

23

2,0

6,5

204

1530

7,50

-30

80

85,00

25150.0142

40

40

M8

23

2,0

6,5

163

1630

10,00

-30

80

98,00

25150.0143

50

20

M10

28

2,0

7,0

720

3600

5,00

-30

80

115,00

25150.0151

50

30

M10

28

2,0

7,0

343

2575

7,50

-30

80

135,00

25150.0152

50

40

M10

28

2,0

7,0

244

2440

10,00

-30

80

160,00

25150.0153

50

50

M10

28

2,0

7,0

176

2200

12,50

-30

80

185,00

25150.0154

60

30

M10

28

2,0

7,0

453

3400

7,50

-30

80

200,00

25150.0161

60

40

M10

28

2,0

7,0

333

3330

10,00

-30

80

220,00

25150.0162

70

45

M10

27

3,0

7,0

356

4000

11,25

-30

80

372,00

25150.0171

75

40

M12

37

3,0

9,0

460

4600

10,00

-30

80

385,00

25150.0176

75

55

M12

37

3,0

9,0

328

4510

13,75

-30

80

450,00

25150.0177

8

8

M3

6

1,0

-

35

70

2,00

-30

80

1,41

25150.0203

10

10

M4

10

1,2

-

36

89

2,50

-30

80

2,99

25150.0206

10

15

M4

10

1,2

-

16

60

3,75

-30

80

3,50

25150.0207

15

10

M4

10

1,4

-

79

198

2,50

-30

80

6,00

25150.0208

15

15

M4

10

1,4

-

33

125

3,75

-30

80

7,00

25150.0209

15

20

M4

10

1,4

-

29

145

5,00

-30

80

8,00

25150.0210

20

15

M6

18

2,0

-

94

352

3,75

-30

80

18,00

25150.0221

20

20

M6

18

2,0

-

52

260

5,00

-30

80

25,00

25150.0222

20

25

M6

18

2,0

-

50

310

6,25

-30

80

20,00

25150.0223

25

15

M6

18

2,0

-

183

687

3,75

-30

80

28,00

25150.0226

25

20

M6

18

2,0

-

120

602

5,00

-30

80

32,00

25150.0227

25

30

M6

18

2,0

-

75

562

7,50

-30

80

39,00

25150.0228

30

15

M8

20

2,0

-

142

534

3,75

-30

80

45,00

25150.0231

30

30

M8

20

2,0

-

112

843

7,50

-30

80

58,00

25150.0232

40

20

M8

23

2,0

-

300

1500

5,00

-30

80

80,00

25150.0241

40

30

M8

23

2,0

-

204

1527

7,50

-30

80

95,00

25150.0242

40

40

M8

23

2,0

-

162

1620

10,00

-30

80

100,00

25150.0243

50

20

M10

28

2,0

-

718

3589

5,00

-30

80

130,00

25150.0251

50

30

M10

28

2,0

-

343

2570

7,50

-30

80

150,00

25150.0252

50

40

M10

28

2,0

-

244

2436

10,00

-30

80

170,00

25150.0253

50

50

M10

28

2,0

-

176

2198

12,50

-30

80

187,00

25150.0254

60

30

M10

28

2,0

-

453

3400

7,50

-30

80

210,00

25150.0261

60

40

M10

28

2,0

-

330

3300

10,00

-30

80

236,00

25150.0262

70

45

M10

27

3,0

-

356

4000

11,25

-30

80

380,00

25150.0271

75

40

M12

37

3,0

-

450

4500

10,00

-30

80

410,00

25150.0276

75

55

M12

37

3,0

-

320

4400

13,75

-30

80

515,00

25150.0277
Contact Us
Unit 416, Raheja Tesla Industrial, TTC Indl. Area Juinagar MIDC, Navi Mumbai 400705. Maharashtra. India. Next to Prabhat Diary, Navi Mumbai, Maharashtra, 400705, India
Phone :+918045800157