Grippers Round Square With Ribbed Hard Metal Insert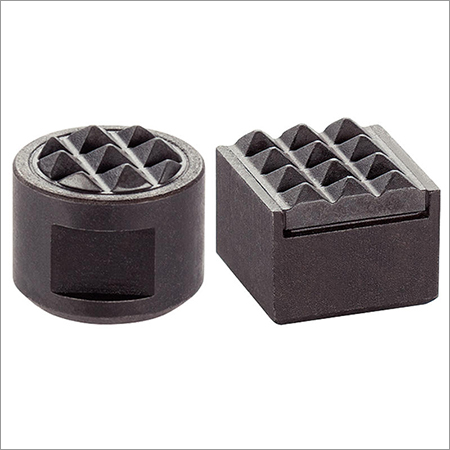 Grippers Round Square With Ribbed Hard Metal Insert
Product Description
Basic element to be mounted into clamping devices, clamping jaws, clamping arms, claw feed systems and so forth. For transmission of high turning moments and holding forces, e.g. on cast and forged pieces.
Body
Ribbing

Hard metal plate, brazed-in
Assembly
Square type suitable for alignments, thus providing a bearing surface for high holding forces.
Dimensions [mm]

[g]

Art.-No.

d 1
-0,13

h 1
-0,13

l 1
-0,13

d 2

d 3

h 2

h 3

l 2

t

10

10

-

M5

7,9

4,75

4,5

-

2,3

5

22620.0010

10

12

-

M5

7,9

4,75

6,0

-

2,3

6

22620.0012

12

10

-

M5

9,5

4,75

4,5

-

3,0

8

22620.0020

12

12

-

M5

9,5

4,75

6,0

-

3,0

9

22620.0022

16

10

-

M6

12,7

4,75

4,5

-

3,0

14

22620.0060

16

12

-

M6

12,7

4,75

6,0

-

3,0

17

22620.0062

20

10

-

M6

15,9

4,75

4,5

-

3,0

23

22620.0080

20

12

-

M6

15,9

4,75

6,0

-

3,0

27

22620.0082

25

10

-

M6

19,0

4,75

4,5

-

3,0

36

22620.0100

25

12

-

M6

19,0

4,75

6,0

-

3,0

43

22620.0102

-

10

12

M5

-

-

-

10,3

3,0

11

22620.0152

-

12

12

M5

-

-

-

10,3

3,0

12

22620.0154
Contact Us
Unit 416, Raheja Tesla Industrial, TTC Indl. Area Juinagar MIDC, Navi Mumbai 400705. Maharashtra. India. Next to Prabhat Diary, Navi Mumbai, Maharashtra, 400705, India
Phone :+918045800157